Works Department :-
University Works Department, Jammu came into existence in 1970 in Old University Campus, Jammu for attending the repair/maintenance of the University buildings in Old Campus and construction of the New buildings in New Campus, University of Jammu.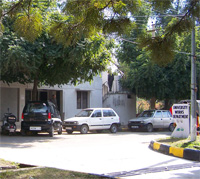 Works Department
Subsequently, it established its Divisional Office in New University Campus in February 1977. Under its supervision, all the buildings of the Teaching Departments/Administrative Departments and residential of the University have been constructed hitherto.
Presently, the construction work of the building behind Administration block & the Business School is going on.
Staff Hierarchy: