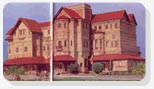 585 kilometers away from the capital of India (Delhi), situated at the foothills of Trikuta, besides the river Tawi at an altitude of 1030 ft. is Jammu, a historical city. Land of brave Dogras known for their heroic deeds is a land of peace. Dogras are handsome and artistic people who love beautiful things. Western travelers in the past ranked the people of Jammu as most gentle, elegant in the manners, decent, handsome, 'Bhalamanous' (noble and gentle) polished, gallant, agile, well skilled, cautious, refined, scholarly, able and moderate.
According to a Legend, King Jambulochan on seeing a tiger and a goat drinking water from the same pool was struck by the harmony and peace of this place and founded a City here-Jammu. It is also said that the history of the City is much more old and is related to Jamawant, one of the warriors in Rama's army, who used to practice austere penances here in a cave near Pir-Khoh.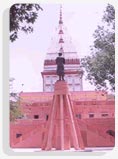 Jammu has numerous temples in its lap and hence called the City of Temples. Linked with rail, road and air it has emerged as a big trading centre in the recent years. The view of the dawn and dusk of this sacred city is simply enchanting. In the crowded busy bazars people rub their shoulders to bargain for Kashmiri dry fruit, Bhadarwahi Rajmash, Kashmiri Shawls, Phirons, artificial jewellary, wood work etc. All bazars in the city have their own peculiarities and specializations. Raghunath Bazar a big retail market, Kanak Mandi a whole sale market, Pacca Danga for books, Jain Bazar for Jewellary, Linkroad a ladies shopping hunt etc, are the few bazars of their own type - in this way it has to offer many things for which a tourist is at the look out.