University Science Instrumentation Centre :-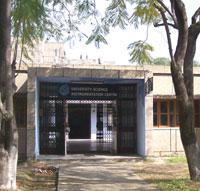 Instrumentation Centre
The University Science Instrumentation Centre (USIC) with an objective to nurture and spread the culture of instrumentation in the higher education system came into existence in this University in August, 1987 with the appointment of a Senior Scientific Officer (SSO). The technological infrastructure includes five main workshops viz. 1. Electronics and analytical 2. Mechanical 3. Refrigeration 4. Electrical and 5. Glass blowing.
Recently an analytical lab has been set up with an aim to provide centralized analytical facilities to the students, scholars and faculty members of the various science departments. In the initial stage (i) UV Vis-double beam spectrophotometer (ii) Ion analyzer and (iii) Water quality analyzer have been installed wich are rendering useful service to the scientific community.
The USIC Department is striving hard to make it a centre of excellence.
Activities :-
USIC is fully developed at level-I and has shown good performance in providing support facilities (in fabrication/repairs of scientific equipment) to various departments to the University. The support provided by the centre has earned appreciation of the Science departments by saving sufficient sum of money by repairs and fabrication. USIC is also providing support facilities to institutions other than University, like Govt. Colleges, J&K Forensic Laboratory etc.
USIC has started fabrication of stabilizers from 0.5-10KVA. The Departments of University are being benefited by this facility.
Achievements :-
The support provided by the centre has earned appreciation of the Science Departments. The department of USIC headed by Sr. Scientific Officer has undertaken a number of fabrication and repair jobs (3954) of various departments of the University from 1987 to Nov. 2002. The activities in the analytical field are also gaining momentum.